THE ICONS STORY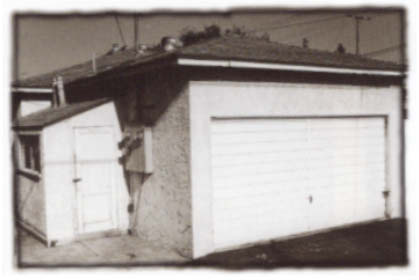 It all started with the prototypes in this 2 car Garage!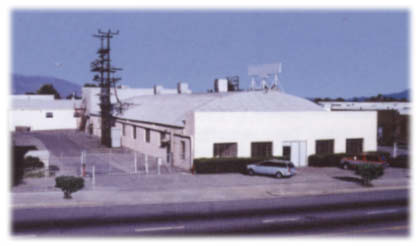 The Factory!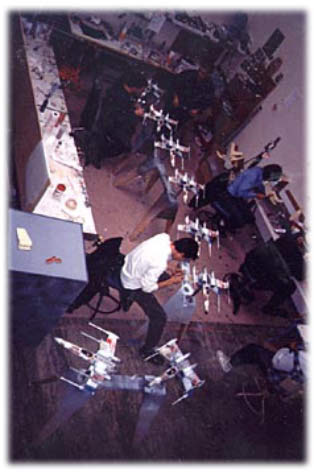 Working on some X-wings!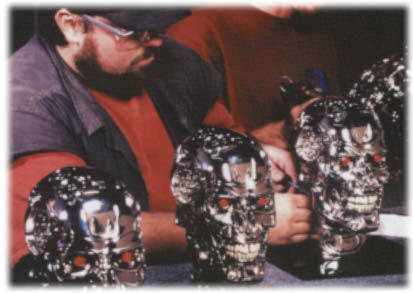 Damn small items to put on all the time.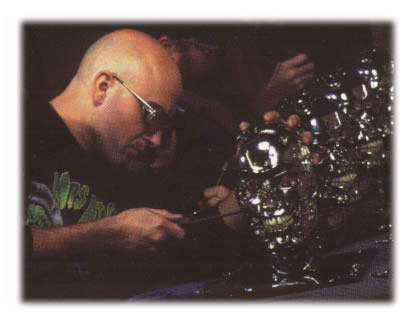 Yes Please!!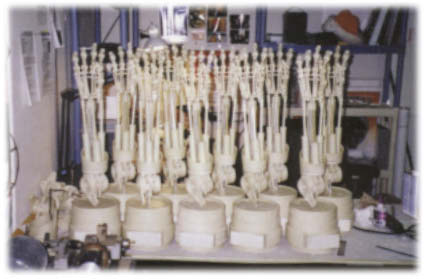 Would you like some Endoarms Maybe!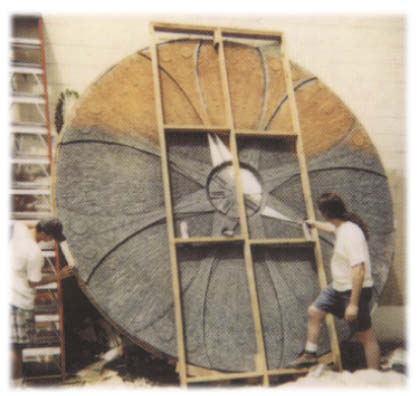 Working on the ID4 city destroyer for Planet Hollywood!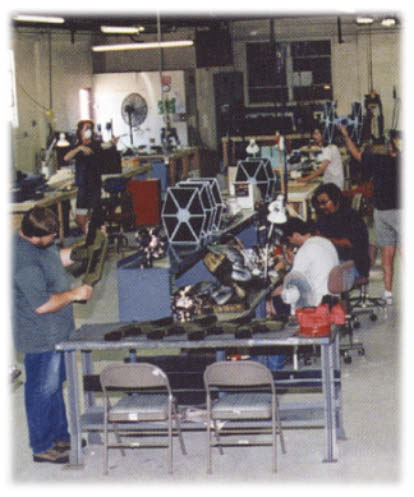 Inspecting a Pulse Rifle and some Tie Fighters In a row!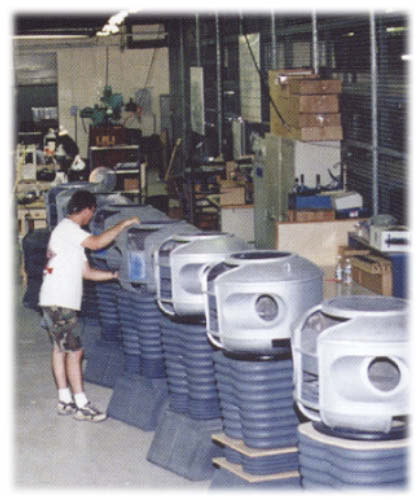 Where did all robots go??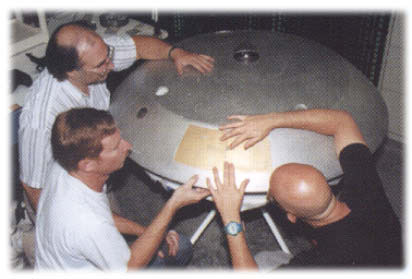 So much work on something that never was released!
The lost in space ship.

Som Luke ANH sabers waiting for asembly.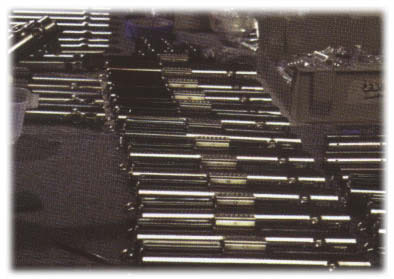 Finnished Luke Sabers!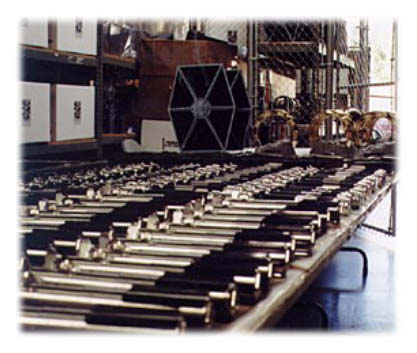 And here are more finished sabers inc a BIG Tie Fighter!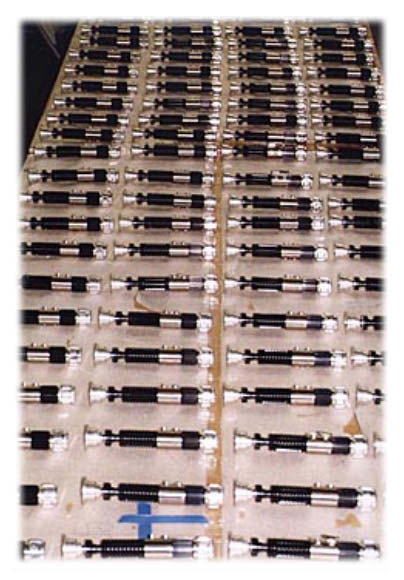 Ben Sabers ready to go!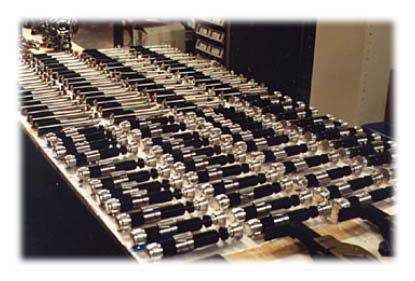 Obi Sabers, Luke Sabers, M41s and Endoskulls ready to go!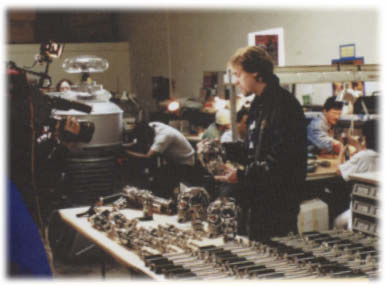 James him self doin an interview! Do you se the
the Men In Black Tri-Barrel Rifle in the back
of the table that was never made!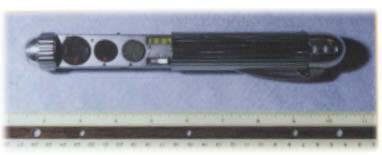 And here thay are working on the Men In Black
Neuralizer that was never finished for release! Feels like
Master Replicas is a copycat..


This was taken from the ICONS Web site
just before they closed:
Southern California based Icons Authentic Replicas produces 1:1 scale replicas of film and television props and miniatures cast from originals used during filming or recreated using extensive research and original reference material.

Icons was founded in the Summer of 1995. Initial prototyping occurred until the Summer of 1996 when the company premiered its introductory product line with official replicas from Star Wars licensed by Lucasfilm Ltd. The quality and accuracy of the Star Wars Lightsabers immediately established Icons as an international brand name. Within six months Iconsí Star Wars line was sold through The Sharper Image, FAO Schwartz, The Smithsonian Institute, and QVC. The now retired Lightsaber line often garner three times their original retail sales price on the collectors market and were voted #1 Skywalker and #3 Obi-Wan Kenobi best prop replicas in the March 1998 issue of the official Lucasfilm publication The Best of Star Wars.

The Icons Star Wars line was immediately followed by authentic studio authorized replicas from such blockbusters as Aliens, Predator, Terminator 2: Judgment Day, Independence Day, Men In Black, Jurassic Park, Batman and Robin, Xena: Warrior Princess, Lost In Space, just to mention a few.

Iconsí Fabrication & Design craftsmen were veteranís of such films as Star Trekís IV, V, and VI, Batman Forever, The Abyss, Back To The Future II, Eraser, Dances With Wolves, Water World, Patriot Games, 1941 and television programs including Star Trek the Next Generation and Quantum Leap. The skills of Icons in-house spfx team were so sought after, Icons provided actual props, wardrobe accessories and set pieces to Star Trekís Deep Space Nine, Voyager, Babylon 5, and Third Rock From the Sun. Theme park clients followed with contracts for the Star Trek Experience in Las Vegas, Nevada and T2-3D attraction in Universal City, California.

After four years of tremendous growth, Icons has been restructuring and reorganizing to better serve itís customers. Effectively down-sizing to a more cost-effective facility and streamlining its operations. Currently Icons is focusing its attention on fulfilling back-ordered product resulting from excessive demand. This website will continue to expand to bring you up to date information.

Icons Authentic Replicas holds an open-house for confirmed customers on Thursdays from 2:00 pm to 4:00 pm at our original Sherman Way location.



This was taken from the site at the end of a big era that startd the new hobby for so many people. To bad so many customers got riped off.
Dear Visitors to the official Icons website:

Thank you for visiting. Icons Authentic Replicas website is not currently in operation due to the company's continuing complete reorganization. We are not currently accepting new orders on any of our product-line during this reorganization period.

Over the past five years (Icons was founded in the summer of 1995), Icons has experienced incredible growth with an exceptionally high turnover of officers, executives and employees. The Icons company remains very proud of our product quality and authenticity but unfortunately our customer service and delivery track record have historically been very poor. Icons reputation has suffered from shipping delays and broken promises. These were never intentional but were based on manufacturing assumptions not facts. Put simply, the company was overwhelmed by its own success and rapid growth. It is very important to us from here forward to endeavor to provide only accurate customer service information, therefore we sincerely appreciate your patience as we regroup and set realistic production and delivery schedules without sacrificing product quality.

After an unexpected and indefinite delay in the company's anticipated public offering, Icons has effectively downsized, cutting overhead and reestablishing manufacturing in a more cost effective facility. Fortunately, Icons' replicas are still in very high demand from consumers and retailers alike so we expect our downsizing and restructuring to yield expedient customer service results.

The current staff remains committed to rebuilding the company and fulfilling backordered product (even in the event that an edition run only fulfills outstanding orders and is then retired). Icons processed a tremendous amount of refunds in 1999 and will continue to do so as expediently as possible.

We appreciate the great patience and understanding so many of our customers have demonstrated during our formative years and at this important transition time. We want to thank everyone for allowing us this important time to rebuild.

This is Icons Authentic Replicas only official website so please stop by for upcoming updates.